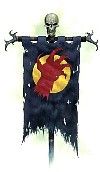 Red Hand of Doom - Part 1
Cost: $0.00
Level: 6

First Session: Wednesday -- December 31st, 1969 -- 5:00 PM
[Eastern Time]
Approx. Length: 4-5 sessions


Description:
One of the best adventures, ever told. See why 4th edition is set in the Nentir Vale.

Who Can Stand Against the Son of the Dragon?

The Wyrmsmoke Mountains shook with the thunder of ten thousand screaming hobgoblin soldiers. From the phalanx emerged a single champion. One by one the tribes fell silent as the warlord rose up, red scales gleaming along his shoulders, horns swept back from his head. A hundred bright yellow banners stood beneath him, each marked with a great red hand. He stood upon a precipice and raised his arms. "I am Azarr Kul, Son of the Dragon!" the warlord bellowed. "Hear me! Tomorrow we march to war!"

Confronted with the relentless advance of Azurr Kul's horde, the characters must undertake vital missions to influence the outcome of the war. Can they shatter the armies of the enemy, or will Azarr Kul's dreams rain destruction upon the human lands?

Game Sessions
| Where | When | DM | DM Feedback |
| --- | --- | --- | --- |


RSVP is closed since Wednesday -- December 31st, 1969 -- 5:00 PM




People can Show Interest up until Wednesday -- December 31st, 1969 -- 5:00 PM

Interested List
User
Pic
RSVP
Score
Character
(type+press Enter)
Days/Time you can't make
or offer place to play.


Comments - these get emailed to you, please check your email's spam folder to ensure you get them.