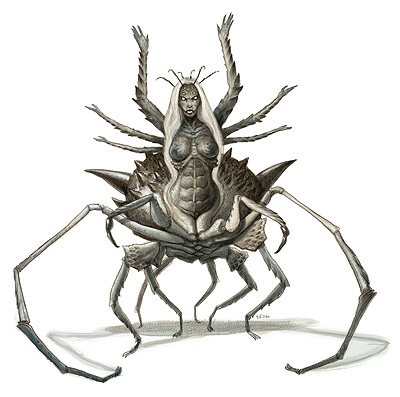 Lair Assault - Spiderkiller
Cost: $0.00
Level: 9

First Session: Monday -- October 15th, 2012 -- 7:00 PM
[Eastern Time]
Approx. Length: 1 session


Description:
This time the PCs have been asked to venture into a long-forgotten section within the bowels of Undermountain to stop a Drow priestess from opening a permanent portal to the Demonweb. If she succeeds Lloth can send forth her minions to reclaim Undermountain and from there launch an assault upon Waterdeep and the rest of the surface. The stakes are high so it's important that the party sent forth to complete this objective be exceptionally capable.

None of the usual Campaign Games character creation rules apply. All published D&D sources are legal when it comes to choosing feats, powers, themes and equipment. When equipping your PC you can have one item level 10 or lower, one item level 9 or lower, one item level 8 and 3,400 gp to spend on pretty much anything else. However, you can only have two consumables (level 9 or lower) and only one rare magic item.

Game Sessions
Where
When
DM
DM Feedback
Join the Interested List to see where
Monday -- October 15th, 2012 -- 7:00 PM

Matt H
+36 Roleplaying Votes
+30 Tactics Votes


RSVP is closed since Friday -- October 12th, 2012 -- 7:00 PM




People can Show Interest up until Friday -- October 12th, 2012 -- 7:00 PM

Interested List
User
Pic
RSVP
Score
Character
(type+press Enter)
Days/Time you can't make
or offer place to play.
Frank
5

Ben K
3

Nileoc
3

"Hengeyokai" Assassin
AVacc
1

Capt_Dan
0

 Human Warlord
Tommy T
0

agustin
0

 Elf Druid/Shaman
Backup Hengeyokai Invoker/Shaman
Tracy
0

Melgar - The Bugbear
Back up- undead piranah
James L
0

Thri-Kreen Warden/Barbari
Thri-kreens love Elves, but Drow is a delicacy
Deirdre
0



Comments - these get emailed to you, please check your email's spam folder to ensure you get them.

| | | |
| --- | --- | --- |
| Oct 16, 2012 5:15 PM | - Nileoc: | I love the image, *In the background two of Lolth's spidery legs and a legion of driders are seconds from reaching the portal. A Cactus arm blocks the priestess' blade, and from behind it comes a giant Bugbear staking everything on the final strike of his executioners axe. Oh, and an assassin(?) falls over an imaginary pit.* |